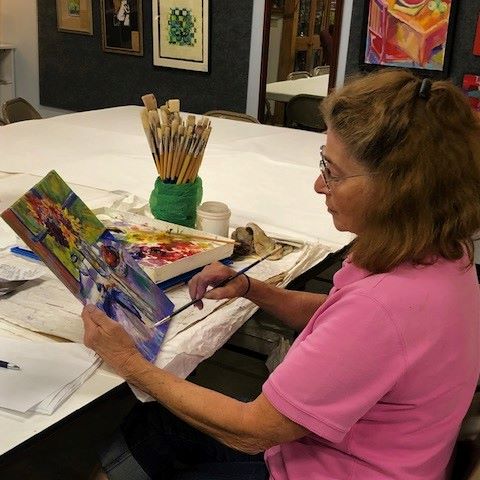 Mell Friedland
Fine Arts Artist
Inspiration for my artistic ventures comes from Impressions of my everyday life experiences. Sometimes I notice the way the light affects a simple table setting, or how the sunlight on a farm field can create patterns of shadows, or in a simple pose or glance from an attentive cat or dog (some of my favorite subjects)!
First, I notice COLOR; then, I capture the PATTERNS. I try to render a pleasing combination of those impressions on a canvas. Lately, my inspiration comes from every day travels around Geauga County, Ohio. I notice the trees and grasses in the fields or how the sun affects the intensity of the colors, adding drama with shadows and changing minute by minute and season to season. Even the same everyday vistas can appear different from one day to the next.
The media most used for my landscapes is oil paint. However, my favorite method is chalk (soft) pastel on sanded paper. Most of my animal portraits I create with pastels, which I think offer more exceptional ability to control details and incorporate drawing techniques.
I try to infuse everything with specific energy and intensity that allow me to capture a mood or a fleeting moment that I know will never be repeated! I don't consider my artwork complex; everything is straight forward, simply portrayed, and highly visual.
Another medium I worked with is transparent watercolor. I like the fluid ease and "light" feeling watercolor gives a painting. For me, it involves an entirely different thought process, making it challenging to accomplish a satisfactory finished piece of artwork!!
Experimentation with silk fabric painting brought another unique method of color application in the form of vibrant, fluid dyes on "floating" (stretched) silk fabric canvas ` a very ancient technique portrayed with modern contemporary subjects
I hope that my artwork will inspire you to notice your everyday surroundings in a different light because "Art is all around you"!
Visit Our Gallery
11110-6 Kinsman Rd.
Newbury, OH 44065
440-739-4128
Tuesday – Saturday 10 AM – 4 PM
Inquire about the Artist's work.