June First Friday Artist Reception
June 7, 2019 @ 6:00 pm

-

8:00 pm

Free
We are excited to feature the works of Beth Nilges-Nehamkin and Danielle Magdych during June's First Friday event! Both are amazing artists, who you won't want to miss. Here is a little background on them. We hope to see you in June!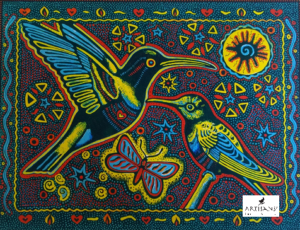 Beth Nilges-Nehamkin
At the head of the movement for artistic and spiritual expression in Northeast Ohio is Beth Nilges-Nehamkin, a long-time participant in nonprofit art organizations and creator of psychedelic works. In the work she designs, Nilges-Nehamkin makes powerful statements about the earth and its creatures as well as the aspects of ourselves that we must maintain. A guiding figure in her work is her foundation of mythology and philosophy. Her commentary on the mind, spirit, and body are conveyed through vibrant color palettes, expertly arranged imagery, and in every dot and pattern.
Nilges-Nehamkin creates paintings and prints, appealing to any person with a creative mind and a willingness to dream. Her pieces feature many animals, including but not limited to birds, horses, frogs, and turtles: symbols of freedom, peace, and Mother Earth. For a free spirit at heart, these conversation pieces invite friends and family to discuss their meaning at length while also inspiring you. For collectors of incredibly unique craftsmanship, you will find these irreplaceable works to be gems in any household or gallery. And, as said by George Eliot, "These gems have life in them: their colors speak, say what words fail of."
Ultimately, Nilges-Nehamkin's goal in making each spectacular ornament of color is to kindle relationships with other artists, inspire creative interest, and rejuvenate the presence of art in nearby communities. In purchasing these artworks, you will be gaining a bright splash of color in any drab space and an interesting conversation to delight many.
Danielle Magdych, Designer of Whimsical Winged Creations and Aroma on the Rocks Jewelry
Vincent van Gogh once said: "If you truly love nature, you will find beauty everywhere."   My eyes have been open to the beauty in nature since I was a little girl here in Geauga County.  My most vivid and happiest memories are of taking long walks with my grandmother near a creek bed, in the woods, or in an open field of wildflowers.  While holding her hand I learned about the creation that surrounded me through her eyes. She obviously shared these same type of walks with my mother when she was little because she too helped me to see the artistry in nature.  In memory of these two beautiful women, I have created my Whimsical Winged Creations Collection, specifically designed after dragonflies, butterflies, and hummingbirds.
In 2007, while living in Southern California, I left my career in the legal industry and began designing my Whimsical Winged Creation collection to share my love of nature, shimmer, and sparkle with those who visited our town at the local farmers market. To my delight, they made people smile, which in turn moved them to share their personal connection with these spectacular creatures!  During the last 12 years, I've lived across the United States, and my Whimsical Winged Creations continue to "fly" to all parts of the world as gifts for people who are dearly loved.  No two pieces are alike and yes! I make the wings!
In the fall of 2018, I added a second collection to my designs:  Aroma on the Rocks aromatherapy jewelry.    With the stress and anxiety in our lives these days, we seek peaceful calming moments in nature and in other ways.   I found that essential oils are another natural way to harness the beauty of nature through our sense of smell.   My aromatherapy bracelets, necklaces, earrings, and rings are designed with a porous stone that originates from the heat of the core of the earth (lava rocks) which effectively releases the aroma of your favorite essential oils.  By simply placing 1 or 2 drops of your favorite essential oil onto my aromatherapy jewelry you will enjoy the calming benefits of this aroma throughout your day!  It's jewelry with a purpose! Visit www.daniellemagdych.com to purchase any of my collections.    Enjoy the beauty and sparkle around you!
Details
Date:

June 7, 2019

Time:

6:00 pm - 8:00 pm

Cost:

Free

Event Categories:
Venue
11110 Kinsman Rd.




Newbury

,

OH

44065

United States

+ Google Map

Phone:

440-739-4128

Website: