First Friday March 2020
March 7, 2020 @ 6:00 pm

-

8:00 pm
Susan M. Lucas – Solon, Ohio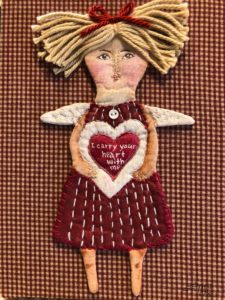 It seems natural that I explore the world through art, having grown up in a family of artists. Creating art every day was the norm. We collectively pursue just about every form of art available to us, painting, drawing, sculpting, woodwork, sewing, needlework, music, dance, theater. I have always drawn my inspiration from the natural world and have an affinity for working in three dimensions. I love to sculpt in a variety of mediums, including fabric, clay, wood, and found objects.
I enjoy recreating objects of art from natural materials. My goals at this time are to explore my outer and inner world through art, to reach within my emotions, experiences, dreams, fantasies, and bring forth art more representative of myself in connection to the natural world around me.
It is difficult to pin down a specific "creative process" by which art grows out of the imagination. The process is an ongoing awareness of the world around you at all times, noticing colors, textures, forms, patterns in everything, and experimenting with different media to recreate what you see and experience. I enjoy the sense of accomplishment and joy when a project is complete, even if it takes years of simmering on the back burner.
Robin Nall – Garrettsville, Ohio
Robin likes t
o explore and experiment with different materials using a wide array of concepts that usually let one work inspire the next.  Nature and composition are substantial contributing factors along with her travels, which influence her art.   Currently working in abstract and making negative space emphasize the design.  Robin created fun, colorful artwork that will add pizzazz to any space but also focuses on traditional painting as well.
Robin and Susan's work will be on display at Artisans' Corner Gallery, with an artist reception and talk the evening of March 6, 2020, from 6:00 to 8:00 PM.  Free and open Show runs until March 31, 2020.
Artisans Corner Gallery is featuring Ohio Artisans' exclusively. We are located in the Newbury Center Shopping Plaza at the intersection of SR87/Kinsman Rd & Auburn Rd.
Details
Date:

March 7, 2020

Time:

6:00 pm - 8:00 pm

Event Categories:

Event Tags: