Collage it ! Frame it !
October 9, 2021 @ 1:00 pm

-

4:00 pm

$50.00
Collage It! Frame It!
Join us on Saturday, October 9th, from 1 pm-4 pm, for an afternoon of creative exploration.  Learn to create collage artwork with local artist and teacher Mary Ann Sedivy, and work beside gallery framer Monica Glasscock as she walks you through framing your completed collage.  This workshop will set you on the path to creative bliss while opening up the exciting world of mixed media.  All materials will be provided.  You are welcome to BYOB. Do you keep "stuff" that others discard?  Bring in those beautiful pieces of ribbon, papers, images, buttons, or anything else you might have to incorporate into your collage.  Additionally, plenty of interesting collage material will be on hand for all to use!
History of Collage (from the French: coller, "to glue";[1] French pronunciation:  [kɔ.laʒ]) is a technique of an art production, primarily used in the visual arts, where the artwork is made from an assemblage of different forms, thus creating a new whole.
A collage may sometimes include magazine and newspaper clippings, ribbons, paint, bits of colored or handmade papers. It also may include portions of artwork, texts, photographs, and found objects, glued to a piece of paper or canvas. The origins of collage can be traced back hundreds of years, but this technique made a dramatic reappearance in the early 20th century as an art form of novelty.
The term collage was coined by both Georges Braque and Pablo Picasso at the beginning of the 20th century when collage became a distinctive part of modern art.[2]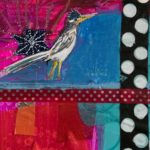 Related Events