A White Elephant Christmas Party!
November 12, 2021 @ 8:00 am

-

5:00 pm
Please join us in an evening of friendship, fun, and laughter!
Friday, December 3rd, we are hosting a White Elephant Christmas party.
How it will work:
Bring one wrapped gift.   Traditionally this is a gift that you own and would like to pass on to someone else. It can be meaningful, funny, nonsensical, quirky, but  NOTHING crude or rude!
Upon arriving, you will exchange your gift for a ticket and place your wrapped gift under the tree.
At 6:30, we will begin, and in numerical order, you will choose a gift from under the tree.  #1 will choose a gift from under the tree and unwrap it.  After that, number 2 will do the same.  At that point, number 2 has the opportunity to steal the #1 gift or keep their original gift.  If they choose to steal the #2 gift, #1 will pick another gift from under the tree to unwrap, OR they can steal their original gift back. Then #2 will choose a new gift from under the tree.    After that, you will move on to #3.  #3 has the choice of stealing #1 or #2 gifts, or they can pick from under the tree if they choose to steal #1 or 2.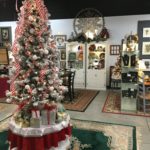 Holiday Treats Served.
It's been a year. Losing both Barb and Chuck has made for a sad and challenging year.  Barbara had a love for Elephants. After reading "The Elephant whisper," her passion deepened. She would always tell people that they needed to read it.
"The Elephant whisper"
Lawrence Anthony devoted his life to animal conservation, protecting the world's endangered species. Then he was asked to accept a herd of "rogue" wild elephants on his Thula Thula game reserve in Zululand. His common sense told him to refuse, but he was the herd's last chance of survival: they would die if he wouldn't take them.
To save their lives, Anthony took them in. In the years that followed, he became a part of their family. And as he battled to create a bond with the elephants, he came to realize that they had a great deal to teach him about life, loyalty, and freedom.
The Elephant Whisperer is a heartwarming, exciting, funny, and sometimes sad memoir of Anthony's experiences with these giant yet sympathetic creatures. Set against the background of life on an African game reserve, with unforgettable characters and exotic wildlife, Anthony's unrelenting efforts at animal protection and his special connection with nature will inspire animal lovers and adventurous souls everywhere.
And if you knew Barb, she loved Christmas!  The decorations, the cheer, but most notably the love of family, and the time to get together and celebrate the true meaning of Christmas.
I remember my family getting together and doing a White Elephant. The laughs and joy of being with friends and loved ones gave me thought to bring this together. So I genuinely hope that you will join us for an evening to have a great time and celebrate all that we have, have had, and with God's mercy, will have.
Peace, Love, Joy, and Happiness!
With sincere gratitude,
Monica
Details
Date:

November 12, 2021

Time:

8:00 am - 5:00 pm

Event Categories:

Event Tags: